What I try to do with reviews at this Bookshelf blog is keep it simple and spoiler-free, and let you know whether I'd recommend you pick up a copy of what I just read. Seems to work okay. This time, a brief review of
Nothing But The Truth
(Delacorte, 1999).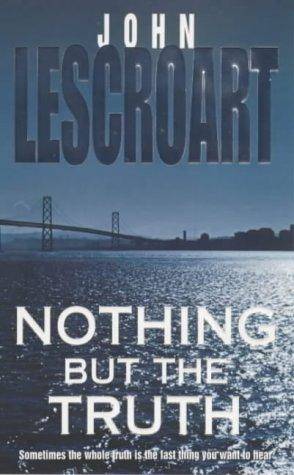 I won't pretend that I was completely sold on
Nothing But The Truth
, another of John Lescroart's legal thriller mysteries featuring Dismas Hardy and Abe Glitsky. It certainly starts well. Dismas's wife Frannie has vanished. For several chapters, this is a scary book, punching home how weird and frightening it is when your spouse disappears. Then it gets even more frightening when we learn why: she had been subpoenaed by a grand jury looking into a murder, didn't tell her husband about it, got on the wrong side of a crusading ass of a district attorney who is massively abusing the power of a grand jury, and is finally able to phone home hours later after she's been jailed for contempt.
Frannie has always been shown to be a headstrong troublemaker, but I had a lot of difficulty believing that the Hardys' marriage has hit such a low point that she didn't want to tell Dis about the grand jury, and refuses to give up the murdered woman's husband's secrets. While she hasn't been having an actual affair with him, she's become too close a confidant, and, torn between guilt and loyalty, she clams up completely. Did I just not want to believe that Frannie's actions were that credible, or did I just not want to believe that these wonderful characters' marriage is in this much trouble? I'm not sure, but I didn't like either choice much.
Once Dis and Abe get involved with Bree Beaumont's murder, things get even more convoluted and exciting. The police have not gotten far, because the investigator assigned to it had been killed a month previously, derailing everything, and Beaumont's connection to the probable next governor of California is causing one roadblock after another. It's a wild tale with political shenanigans and domestic terrorists and a complicated business about gasoline additives. It's so well constructed that when an organization poisons San Francisco's water supply, which, in less capable hands, would feel like a contrived invasion from a much sillier book, it doesn't feel like anything more than the next natural step in a escalating sequence of events that is kicking innocents in the head along the way.
These aren't simple reads, and Lescroart's heroes' painful battles against City Hall leave me blinking and reaching for something lighter to chase each book as I finish them, but they're engrossing and thrilling, if not always fun. Recommended with reservations.