What I try to do with reviews at this Bookshelf blog is keep it simple and spoiler-free, and let you know whether I'd recommend you pick up a copy of what I just read. Seems to work okay. This time, a brief review of
The Vig
(Donald I. Fine, 1991).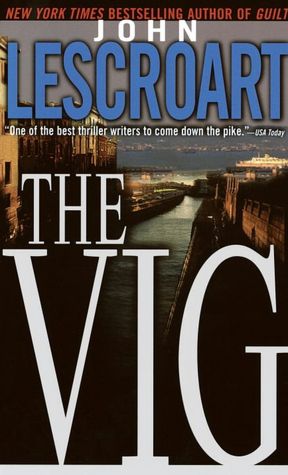 Since I enjoyed one of John Lescroart's "son of Holmes" novels featuring a young, and never formally identified, Nero Wolfe, I figured that I owed it to the writer to try some of his other stories. In 1990, he began a long-running series of legal thrillers and detective fiction that feature a pair of protagonists who share friendships and a big pile of recurring characters. Dismas Hardy is a former cop who sometimes works as an attorney and sometimes as a bartender, and Abe Glitsky is a homicide detective in San Francisco.
The 13th Juror
and
A Certain Justice
were both very good books. They were dense and unpredictable and very well written, but each was a little hampered by my personal biases. The woman in
Juror
who has hired Hardy to get her off a murder rap was so colossally disagreeable and annoying that I stopped caring what would happen to her, and the poor fellow at the center of
Justice
was caught in such an incredibly horrible situation, much of it, involving the politics down at the DA's office, he's completely ignorant, that I found the experience of reading it really depressing. It has one hell of an ending, mind.
Much more entertaining was
The Vig
, which preceded those two books and featured Hardy keeping a low profile and serving black-and-tans from the Irish-themed bar that he co-owns with his future brother-in-law. In this one, Rusty Ingraham, an old colleague from the DA's office, stops by to let him know that a killer they'd put away years before and who swore vengeance is out. They plan to arm up and keep an eye out for each other, but Ingraham vanishes almost immediately, his ladyfriend is found dead, and the ex-con, immediately in trouble with the dealers who've moved into his neighborhood, is on the run after one of
those
thugs gets shot. And then, somehow, the mob gets involved.
I enjoyed this one a lot for its spiraling sense of confusion and Hardy's inability to trust the word of anybody. Hardy believes that Ingraham was using him as an alibi to fake his death and get out of town, but can neither prove it nor find any reason why he would do that, particularly when the bodies keep piling up, and the only one we know for certain that the suspect
didn't
shoot is one of the dealers.
Overall, I really had fun meeting these characters and seeing Hardy driven to keep looking into a weird situation when it's not at all in his interest to keep digging. The storytelling is clear, even as the plot takes wild left turns, and I was left thinking that Hardy's bar would be a fine place to kick back. Next on my pile from Lescroart is
Guilt
, which is linked in some way to the characters in
A Certain Justice
. It's not a situation that I look forward to revisiting, but the characters and the storytelling are so very good that I'm happy to chance it.