Here's how this works. I read a book or two and tell you about them and try not to get too long-winded. This time, a review of
The Beekeeper's Apprentice
(St. Martin's Press, 1994).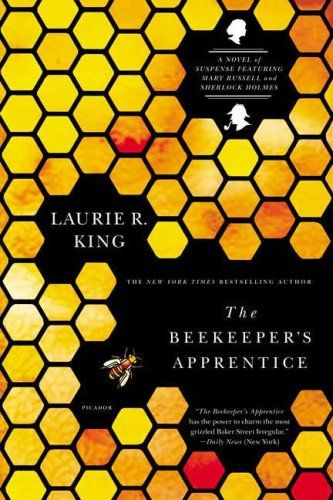 There's just never enough time, is there? I've been curious about Laurie R. King's stories of Sherlock Holmes' later life and his time as mentor to the young detective Mary Russell in the 1920s for simply ages, and I only this month cleared enough stuff from the reading pile to tackle the first of King's eight novels in the series.
The Beekeeper's Apprentice
has fifteen year-old Mary Russell run across the retired Holmes in Sussex. Holmes has retained the services of his old housekeeper, and she encourages the headstrong, incredibly intelligent Mary to visit again. Over time, Holmes takes Mary under his wing as his apprentice, and they work a couple of small local cases where she proves her abilities.
It's only after Mary goes to college that the stakes are raised considerably. When the daughter of an American politician is abducted, the parents insist that Holmes be called from retirement to track down the criminals, and Mary leaves the dormitory to join him on the trail. But their success finds them a new and dangerous enemy, who has been waiting for many years to make a move against Holmes...
Honestly, I enjoyed this even more than I thought I might. Sherlock Holmes pastiches are a dime a dozen (three years back, I discussed
William Baring-Gould
, pretty much the patron saint of fanfic), but I thought this was done with a light touch and an honest commitment to keeping true to Doyle's character while presenting him from another angle. The story is told as though Mary, much later in life, has taken up Dr. Watson's old job as Holmes's biographer and has written her own memoirs for later publication.
Russell tells us more about her own life and experiences than Watson ever did, and it is very fun to read about her days in college in 1918. With twinkling references both to the original canon (fifteen year-old Mary asking what will happen in the next installment of the then-serialized
Valley of Fear
) and fan speculation (Irene Adler, although not that giant rat), it's clear that Laurie King has done a great deal of research to make her novel appealing to either beginning readers or veterans. I had a great time reading it, and I look forward to starting her second novel later this summer.